Later in the week, I promise.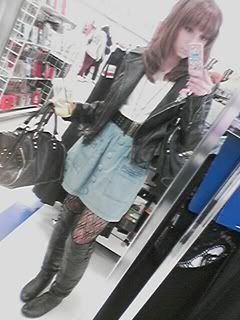 Jacket:
EXPRESS
Top: Forever21
Belt:
H&M
(From the skirt)
Skirt:
PacSun
Tights: TJMaxx
Boots:
Chinese Laundry
Necklace:
H&M
Ardell Demi Pixies
lashes from Sally's. They're nearly identical to
MAC's 007 lashes
, and about a third of the cost.
I'm going to do a hair tutorial. Even if it kills me. I'm just trying to figure out how I'll go about taking the pictures, because I don't have anyone to take them for me. T___T At least, anyone that I'd feel comfortable asking. xDD Pictures for the CandyDoll review have been resized and uploaded, so now all I need to do is... write the review. xDD Which won't take too long.
I have finals Wednesday, so hopefully I'll be able to breathe and... just have time to think afterward. I feel like a coil that's been twisted so tight that it's beginning to fray. I have to watch everything I say because if I don't, I might snap at somebody without provocation. Dx
I forget to take pictures of outfits the day I actually wear them (my routine is: 1. Put clothes on and 2. Run out the door), so sometimes I put them back on to take the picture. xDD I have at least 3 that I need to retake. xD
feeling:
rushed
jamming to: Screamin' - Tokio Hotel