These, to be specific:
Black leather over-the-knee boots by Chinese Laundry.
OTK or thigh-high boots are a huge part of A/W gal fashion, as they have been for years. I actually have a pair of black thigh-high boots, but they have a 4 1/2 in heel, and I don't see myself wearing them to class anytime soon. xDD
My only problem with them is the sole; it's comparable to that of a ballerina flat. It's also lacks a tread, so it's easy to slip around in them... even on dry land. I was rushing to meet a friend and ended up falling on my ass while crossing the street in them. xDD It was dry that day, mind you.
I bought sticky treads for them, so it's not an issue anymore.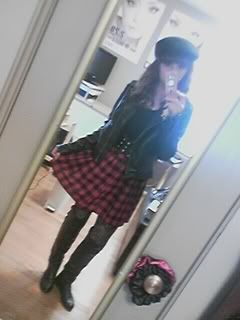 Hat: Dockers
Top: Forever21
Jacket:
EXPRESS
Belt:
Steve Madden
Skirt:
Wet Seal
Stockings: Marshall's
feeling:

cold
jamming to: DUTY - デンジャー☆ギャング